Team up with the ATS Experts today and start receiving the homework of true sports professionals.  Purchasing games from the ATS Experts is fast and easy.  ATS Network online payment options include: PayPal or Visa/Mastercard.
The ATS Network provides members will the ultimate purchasing flexibility.  Members can purchase picks individually on a daily basis only as the ATS Network does not allow the Experts to sell weekly or monthly packages.   

---
How to Purchase Online Sports Picks:


Step One: Selecting Your Games

Option #1 - Multiple Handicapper Packages
On the left navigation click "Available Plays". This page will list all of the ATS Experts daily picks.  Simply click the checkbox(s) next to the picks hat you would like to purchase.  For your convenience all of the handicapper's selections are sorted by sport under each name.  When finished selecting your games, click "*** REVIEW YOUR SHOPPING CART & CHECKOUT ***" at the bottom of the page.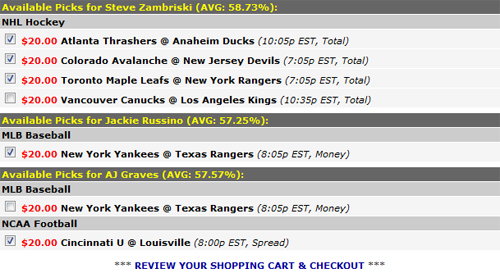 Option #2 - Individual Expert Picks

You can also purchase picks individually from your favorite ATS handicappers.  Here you simply need to check the games you wish to purchase and press the "Proceed to Checkout" button or visit another handicapper if you would like to purchase other games.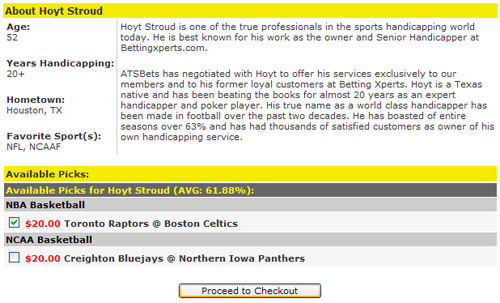 Step Two: Reviewing Selections & Checking Out
When you press the "Proceed to Checkout" button or "Checkout" Shopping Cart links, you will then be taken to the package page with your highlighted games.  Here you may review your selections, update your cart, and make payment.

Snapshot Screen Not Logged In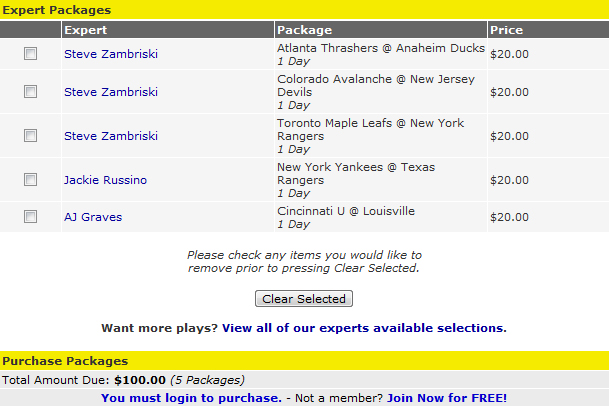 Snapshot Screen Logged In: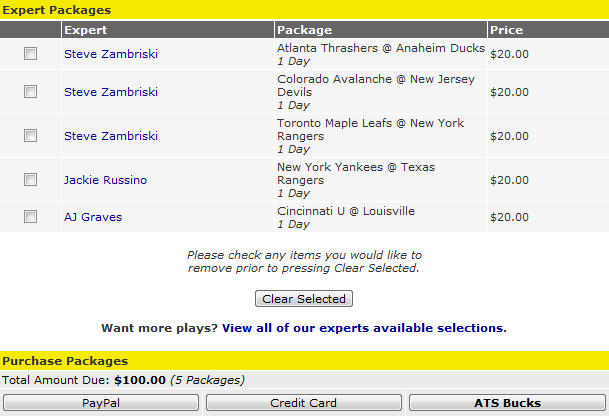 At this screen you will be able to select your method of payment: Paypal, Credit Card, or ATS Bucks.
Note: International customers please use Neteller or Credit Card to purchase ATS Bucks.  Isolated errors may be received for International PayPal transactions with purchasing ATS Bucks via PayPal. 
Step Three: Viewing Your Picks
After you purchase your picks, you will be taken to the members page that will have your information as well as the sports picks you purchased.  Here you will simply click on the name of the "Purchased Picks" to view the pick details.
Ready to start? View all Expert Handicapper Plays now!